We would like to remind our visitors that messages sent by e-mail communication transmission might not be secure. We do not, and cannot, ensure the confidentiality of the content of your e-mail transmissions. We strongly recommend that you do not send confidential or sensitive information by e-mail. If you wish to provide confidential information to one of our professionals, you should do so by contacting them by telephone or in person.
Location Map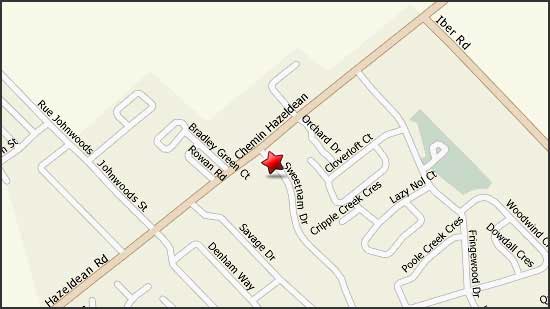 Directions From 417 (PROMENADE TERRY FOX / TERRY FOX DRIVE exit)
Turn LEFT

(if coming from EAST) or RIGHT

(if coming from WEST) onto TERRY FOX DR / CHEMIN TERRY FOX / RR-61 S.
Turn RIGHT

onto HAZELDEAN RD / CHEMIN HAZELDEAN / RR-36.
Turn LEFT

onto SWEETNAM DR.
End at 7 Sweetnam Drive